Stews
All entrees are served with our basmati saffron rice, or grilled vegetables or French fries. You may substitute plain rice with cherry rice or dill-lima bean rice for $2.50 extra. We offer half rice and half salad or grilled vegetables, or french fries for $1.99 extra.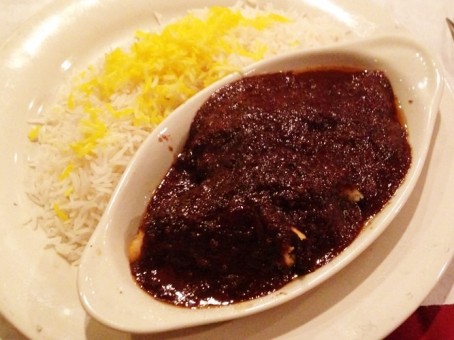 Ghormen Sabzi
Green onion, parsley, spinach and herbs sauteed and cooked with Angus beef, served with Basmati rice.
Bademjan
Sauteed and cooked eggplants with lamb shank served in tomato sauce and side of Basmati rice. Also available with chicken leg or without meat.

Fesenjan Daily Special
Sauteed walnuts in pomegranate sauce, served with chicken and side of Basmati rice.
Gheymeh
Sauteed Angus beef and split peas cooked together in tomato sauce and topped with French fries and served with Basmati rice.