Appetizers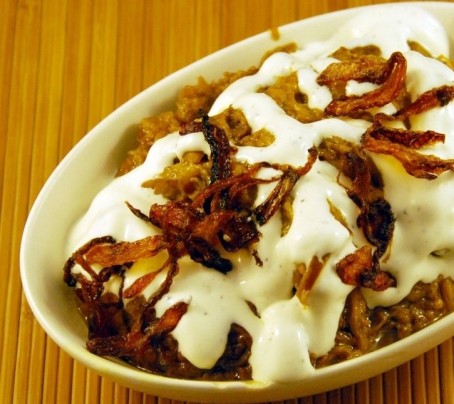 Zeitoon Parvardeh
Green olives with walnuts and pomegranate.
Green Olives in Olive Oil, Garlic and Herb

Kashk O' Bademjan
Eggplant, onion, herbs and spices with cream sauce and mint.
Borani
Steamed spinach mixed with yogurt and herbs.
Must O' Kheyar
Yogurt and cucumber dip with herbs and spices.
Must O' Mosier
Yogurt and shallots.
Torshi
Traditionally mixed and aged green fresh vegetables, pickles, carrots, cauliflower, sun choke potatoes, eggplant and herbs in wine vinegar.
Pickles
Homemade pickles.
Hummus
Chick peas and tahini (sesame seeds), soybean, garlic and canola oil.
Panier O' Sabzi
Garden fresh green onions, radish, mint, basil, watercress, tarragon, nira, Bulgarian fresh feta cheese, and walnuts.
Garlic Torshi
Garlic cloves aged over seven years in wine vinegar.
Dolmeh
Cooked grape leaves stuffed with rice, tarragon, split peas, green onion, basil, parsley, ground beef, and herbs.

Tadigh
Crunchy rice with stew.
Combination Platter
Combination of five delicious appetizers and salads: Dolmeh, Shirazi, Sabzi, Olivieh salad, and homemade pickles.
Basket of Fresh Baked Bread